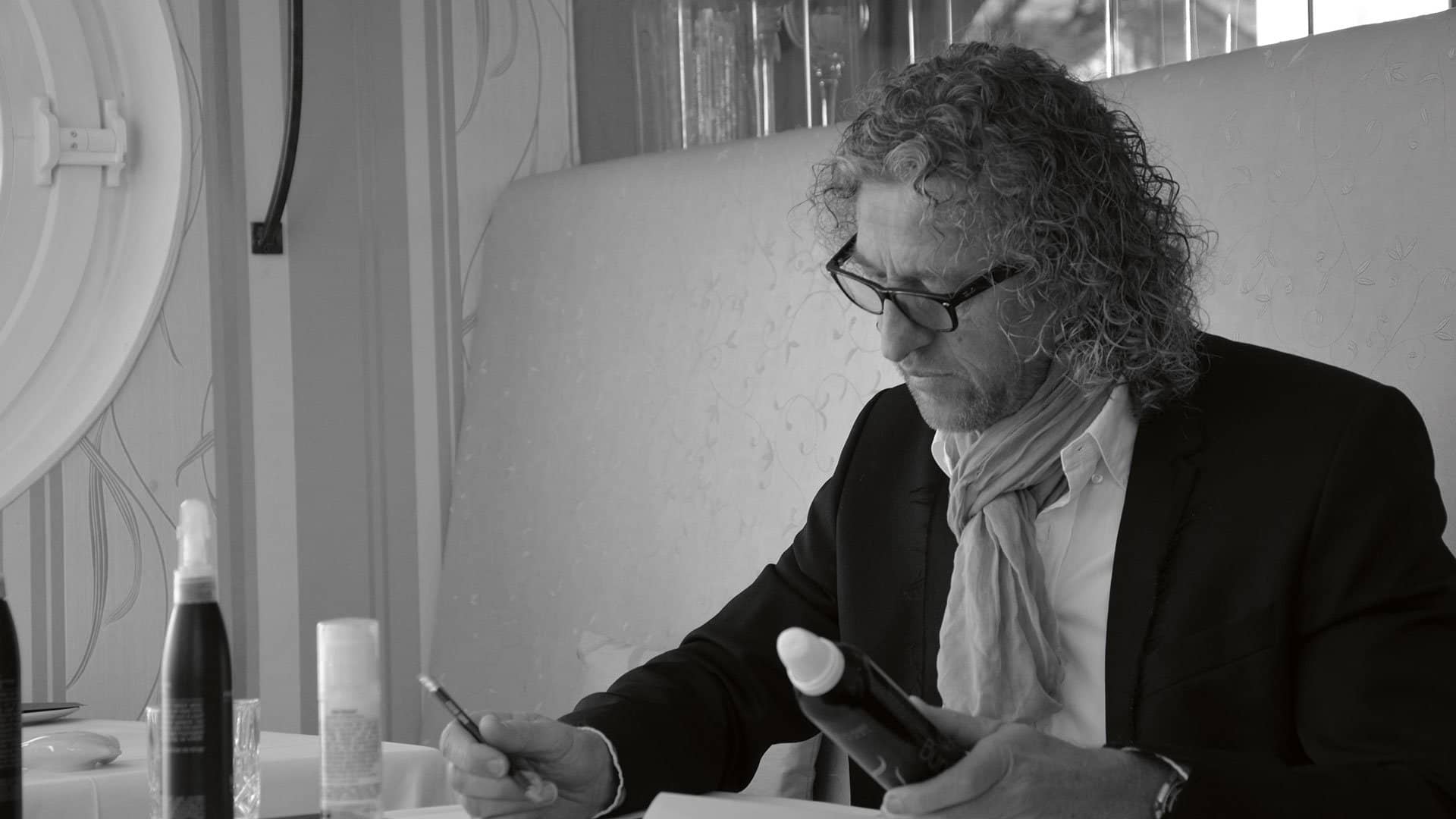 Any information you need to find your perfect hair care.
Jörg's Haarlexikon
How do I best build my personal care?
very important: shampoo + mask ! /> apart from the cleaning of the hair and the scalp , a shampoo ensures that the dandruff of the hair opens to transport nutrients, moisture or color pigments into the hair. A hammask , on the other hand, closes the scales t Hair again, she makes smooth , easily combable And promotes the regeneration .

Here is our shampoos .

Here is our mask .
A Leave in conditioner is there to do the pores and broken areas of your hair to seal . At the same time, your hair is protected from external environmental influences such as wind, heating air or sun < /strong>.

Hier we go to our Leave in Conditioners < em>.
Every styling product has its own authorization. We explain to you what you can use for what. ;)

approach sprays : approach sprays are usually to conjure up volume in the hair. Because we add it to the approach, we strengthen or harden the hair and let the remaining hair look voluminous. Not to be underestimated for fine hair, but not even with thick hair. ;)

Our approach spray can be found in our volume & shine collection: volume Booster .
foam strength < /Strong>: The foam -strength is a very diverse styling agent. We are happy to recommend it for curls or hair with a lot of structure. Simply knead in the hair and get more grip into the hairstyle. ;)

You can find our foam strength in our firm & shine collection: White Sands Mousse .

Hair gel

: Hair gel stands for everything that sits bombproof. Whether slicke wet hairstyles or wild spicks. With hair gel you give every hair!

Our hair gels can be found in our firm & shine collection:

Blue Sea Power Gel

href = "https://genuine-haircare.de/collections/firm-shine/products/beach-clay-glanz-gel-100-ml" Title = "https://genuine-haircare.de/collections/firm- Shine/Products/Beach-Clay-Glanz-Gel-100-Ml ">

Beach Clay Gauch Gel

hairsprays : Everyone knows them, everyone loves them. Hairsrpays are mostly used as a finish and in combination with other styling products. Simply spray with a little distance into the finished hairstyle and create immediate hold.

You can find our hairspray in our firm & shine collection: firm & shine hairspray

< P>

dry shampoo

: Yes, also dry shampoo is a styling product!

Dry shampoo not only freshens your hair, it also gives volume.

Simply spray onto the approach, cradue through the hair briefly and marvel at your new volume!

Our dry shampoo can be found in our original collection:

Fresh up dry shampoo
When choosing, it is sometimes difficult to find your perfect partner. We show you which hair type which brush is suitable!

paddle brush : Our favorite brush! Perfect for smooth hair ! Too much structure or curls are more out of place here!

Here is our Paddle Brush

Care Brush

or brush with natural bristles: Natural bristles are super fine and absorbent. This gives the brush a nourishing and gentle effect on your hair! The fine wild boar bristles tangle your hair gently and pick up the salts and grease your scalp with every application. After repeated use, distribute them in your hair and thus build up natural protection.

Who as his

greasy approach

and

spliss

in the length and Want to counteract tips is well advised with a Care Brush!

Here is our

care Brush!


round brushes
The Care Styler and the Volume Styler as round brushes are ideal to develop your desired volume or give your hair a nice shape. The round hair brushes bring new opportunities to yours Styles and offer your hair additional care! Both the Care Styler and the volume styler are available in different sizes. enable the additional pins optimal grip. A light foam handle offers perfect comfort that makes it easier for you to blow dry. This brush also transports valuable nutrients from your approach to length and tips using the wild boar bristles.


Here is our round brushes ! >

The super light volume styler round brushes prevent any selective overheating of the hair during styling through their specially developed thermal sleeves. The very well-conducted ceramic alloy is evenly distributed the heat on the entire brush body. Thus the hair is protected and does not dry out too much, while a simple styling with a straightener or hair dryer becomes child's play.

Here it goes to our round brushes !

< P>

What is special about the genuine combing?


Lady Amber & lady rose Kamm
are rounded off by hand. These combs are considered hair accessories & are an extraordinary, unique accessory in your bathroom. Locked hair, which should only be processed with a comb (preferably in wet condition), feel particularly comfortable with these combs. https://genuine-haircare.de/collections/bursten-und-kmme/products/lady-amber-kamm- handmade "title =" https://genuine-haircare.de/collections/bursten-und-kmme/products /Lady-amber-kamm-handmaded "> Lady Amber Kamm.
Here is Lady rose comb .
How and when do I recognize what my hair needs?
"Wet Assessment" method. >
2. dry your hair with a towel
3. Now you can feel what your hair needs:



The hair easily stretches, returns to the original length and does not break?

→ Your hair does not require any further care. em> → Protein

Your hair stretches extremely, but does not break?
→ In this case, too, your hair needs protein.

Your hair feels weak and something like rubber?
< em> → additional protein is required.

your hair does not stretch and breaks?
→ In this case there is a lack of moisture.

Your hair feels dry and rough and is difficult to comb?
→ Here too, the hair lacks moisture.

Of course we also thought of proteins for your hair and have plenty of it in our Volume supreme Shampoo and the / em> my secret quicky mask packed!
die volume & shine mask and very dry lengths , which, for example, at Fine or bleached hair . But also for thick hair the V&S mask can do true miracles. Your moisture and nutrient boost brings a great feeling of hair and strengthens the structure. < /Em>

Our color preserve mask color protection and the color intensity . So if you have colored hair, this mask is made for you. The dandruff layer , so moisture And Color pigments better leave in the hair .

for special hungry , very dry hair > wet & shine mask designed.
by added wheat proteins and keratrix If it builds your hair from the inside out and gives a lot of moisture em> . intensive care guaranteed! For that is the my secret Quicky mask ideal. It is our all -rounder under the masks. After only 60 seconds it offers you an intensive care, shine, moisture < /em> and a hair feeling as from the hairdresser . However, since it is not as intense as our other masks, it is also perfect for the daily care
hair oil with dry, brittle and hair plagued by split down? Yes please!

hair oil is a wonderful way to protect your hair! However, oil should not be confused with moisture here. Oil does not donate moisture, but helps you save it.

Hair oil is intended for every hair that many hardships go through and need protection against external influences.

With our / em> treasure Oil we have created a very special hair oil for you. ;)

Test it out!
bleaching or coloring usually interferes with the hair structure. Therefore, your hair needs a lot of care after coloring. Conditioners are mandatory to close the hair layer of the hair. So treat your hair a nice hair treatment at least once a week to make you strong again.

Products with a lot of keratin are also recommended. Keratin restructured and regenerated heavily damaged hair. Conditioner-15-ml "Title =" https://genuine-haircare.de/products/volume-shine-leave-in-conditioner 15-ml "> Volume & Shine Leave in < /em> or the color preserve mask A wonderful alternative for you! < /em>
similar to the coloring, there is a chemical process behind the constant wave that changes the hair structure. So treat your hair intense hair treatments that build up the hair structure healthy again.

Conditioner and care masks are mandatory here!

best look for ingredients such as shea butter, Goji berry and meadow foam herb, keratin.

An intensive care oil is also recommended.

Here we can do our complete color Preserve series recommend. In addition, the treasure Oil Super in care for permanent hair. < /P>
1. Do not wash the hair for 48 hours and if possible do not tie together

2. Do without products with sodium chlorides, alcohol and sulfate.

3. Wait for at least two weeks before you want to color your hair.

4. And then absolutely do without ammonia-containing colors.

5. Do not wash the hair excessively so that the keratin does not wash out.

6. Care hair intensively even after the treatment.

7. Use keratin-containing products.

8. Make hair treatments and masks regularly so that the result is preserved for longer.
How do I solve my problem with ...
one in advance: Spliss can not be regenerated . So if you have split off, there is no way around cutting it over.

However, you can prevent it by sufficient Protected with nourishing oils or a Leave in conditioner .

With our treasure Oil and the Wet & Shine Leave in we offer you great solvents. ;)
The most common causes of dry hair are to be colored frequent dyeing and Blow -dry of the hair. Your hair is removed a lot of moisture and the result is dry hair. It is therefore recommended to have a moisturizing care like our Wet & Shine Leave in Condioner or the < Strong> My Secret Quicky Mask . Hair oils can also help you save moisture in your hair. Simply work a few drops of hair oil into wet hair. The oil surrounds the hair and blocks the moisture in them. At the same time, your hair is protected from external environmental factors.
When your scalp is irritated, it produces more sebum.
So always try to treat you gently. Avoid having too hot blow -drying or washing.

It is also advisable to wear loose hairstyles and only brush your scalp gently.

apart from it, it is very important to drink enough water. If this is not the case, it may be that your body detoxifies via your scalp instead of the kidneys. This sweats more on the head, this sweat mixes with the natural salts and greases of the scalp and makes your hair appear greasy as a result.

The following points are important:

Healthy eating, lots of water, little stimuli on the scalp .

Products that you can use against fatty hair:

Balance Inense Shampoo
loog Lotion
When the hair is thinned out this often has several causes: too frequent washing hair, frequent coloring/ bleaching, regular working with heat on the hair (smoothing iron, curling iron), or even older hair.
However, all of these causes combines that thinner hair can hardly keep/save any moisture and nutrients inside, which means that the process continues to accelerate and ultimately ends in hair fraction and porosity.
It is important to work with appropriate care . Above all, Haarmasken .
A hair mask is regenerated broken spots in the hair and builds the inside of the hair. In addition, a mask closes and smoothes the shed layer of the hair surface. This creates less friction; The hair is no longer rough, is more supple and can save the nutrients and moisture in the hair better and longer.
A real all -rounder for every hair structure is our my secret quicky mask and effects application of only 60 seconds.
The origin of hair loss lies in the hair roots . So it is recommended to stimulate the blood flow to the scalp by gently brushing it and gently massaging < /Strong> . A cause of hair loss can be clogged pores of the scalp. To counteract this, it is advisable to clean them with a tincture . For this you can do our l'Oog 36-hair loss and shed Lotion . t product information, shipping policies, payment issues or returns.
There are two types of scales: fatty scales and dry dandruff < /Strong> .
So you should first find out which type of dandruff it is.
fatty scales are more and mostly stay on the scalp or glue . You can use our balance intense shampoo get under control. A hair loss lotion like our l'Oog 36 /// EM> would also be recommended here because it actively prevents scales.
dry scales , on the other hand, are small, white and trickle from your head / Strong> down on the clothes. You can counteract them by reducing your hair wash and your scalp with a vitamin -rich oil / Massify Strong> to stimulate blood circulation.


You get more volume in your hair if you to blow dry it upside down . The application of the dry shampoos also promotes your volume upside down . In addition, styling products can help you further expand your volume (e.g. base sprays em> ).

Important here: Note that you No heavy products use your hair pull down. To a lot of moisture your hair, for example.

Products you for more volume: fresh up dryinghampoo , volume booster

If your scalp itches so you should use a very mild care , the natural moisture factors such as aloe vera contains. You can find this, for example, in our lüttje lü shampoo . This shampoo ensures a balanced moisture balance and offers you mild cleaning.
at very acute cases you can go to our Cooling Water . It not only counteracts irritation and redness, but also vitalizes the blood flow to your scalp. Strong> protect . do without therefore to hot blow -dry or < /Em> Washing too frequent your hair. lukewarm water with light print massages is recommended. If you cannot do without blow -drying, put your hair dryer on the coldest level .
If your hair is static, more moisture . You can use a sufficient moisture supply with a Leave in conditioner or a care mask . What is more important here, however, is the care mask or conventional conditioner . These have the ability to close the hair layer of the hair and thus ensure less surface. /Nursing mask-1 "Title =" https://genuine-haircare.de/collections/pflegemasken-1 "> care mask . em>
make sure that you do not rub your hair dry after washing , but gently express with a towel . In addition, very dry hair tends to knot. So it is recommended to supply your hair with sufficient moisture . The Wet & Shine Leave in conditioner Promotes the combination of the hair with its high moisture intake And at the same time protects it from external environmental influences that strain your hair.
How do I use my products best? Order, frequency, application etc.
In the first hair wash with a new shampoo you should enter your hair twice twice residual stocks of the previous shampoos are completely washed out . Then you can shampoo your hair as usual. Keep in mind that our Genuine's hairdressing products are and therefore they much productive as drugstore products. A almond size to shampoo is enough.


We recommend the shampoo before you put it in your hair to rub it in your hands until it foams the ingredients it contains better can have a work. title = "https://genuine-haircare.de/collections/shampoo"> shampoos . em>
The mask works from the tips up to approx. Ear height and rinse it thoroughly after the intended exposure time < /Em> but gently . Use at the beginning also with every hair washing so that your hair can take care of the care well and thereby settle faster.

Here is our care mask .
Leave in conditioner should be shaken vigorously before use . Then it is recommended to spray your hands on and to rub it in your palms < /Strong> . Then you can apply it in the porous areas of the hair and until at most at ear work up Strong> . https://genuine-haircare.de/collections/conditioner "> conditioners .
It is recommended to shake your dry shampoo before use .

Hold the can approx. 20-30 cm from your head and < Strong> Spray the Fresh Up to your approach (Pro tips: Use upside down for more volume).

Remember that our genuine's are high -intensity products. So a few sprays are enough of the Fresh ups.

let it briefly take action so that sebum and styling residues can be absorbed. Then you can massage it a little . > Click here for our Fresh up dryinghampoo .
The hairspray spray on your hairstyle in about 20 cm away . This prevents you from getting too centered on your hair and sticking it over.
If you are fast, you can also spray it into the unnecessary hairstyle to shape them afterwards.

Here is our hairspray: firm>firm&shine Hausspray

write a complete Answer to the most frequent questions that your Customers Mgele and waxes you should rub her into your hair before you put her in your hair well in your hand. Simply add a almond size to your palm, rub it well and then knead into your hair . Then form the hairstyle as desired.

Here is a small selection of our gels and waxes: Beach Clay Gel , Sloopy Dog Ight Have, Such as Important Product Information, Shipping Policies, Payment Issues Or Returns.
hair resentors are great to prepare a hairstyle for . Simply add an appropriate amount (depending on the hair length) in the palms and gently incorporate into the hair . Then style it as usual.

Here you should pay attention to your hair after using as usual. Otherwise there can be sticky places in the hair. Through blow-drying and brushing the more consolidated is distributed evenly in the hair and leads to a great result!

Here is our consolidation: Firm & Shine consolidate < br/>

hair grouses or foam -strength are similar to liquid consoles. They look best in damp hair . Simply add a walnut to tennis ball-sized amount of foam in the palms and then work into the hair.

To create voluminous curls , we recommend kneading the mousse in the hair.

then style as usual.

Here is our mousse: White Sands Mousse
hair lacquer is basically the extreme version of hairspray . It is used exactly as hairspray. Simply spray in the hair from about 20 cm and thus fix or style hairstyles. However, the hold is significantly stronger here than with conventional hairspray.

Here is our hair paint: firm&shine Haarlack
The Paddle Brush is a multifunctional brush that glides gently and quickly through the wet hair and favors the drying process. It can be used for style and not only ensures in long or medium -length , but also in short hair for stability and fine shine.

To avoid knots, we recommend the hair to brush gradually from bottom to top . The last brush train should start from the scalp.

Here is our paddle Brush.
If you use a round brush, you should divid your hair into several sections and blow -dry . Dry your hair without a brush until you are only slightly wet . Then you bring the desired shape into your hair with the round brush.

Here you can go to our round brushes .
give 1-2 pumping pumps des glorys Em> in your palms, there are gently we are first in your lace , since the hair is the most porous and Most protection needs. Then work yourself up to ear-height high .

It is best to brush your hair Em> again generously with the Care Brush through so that the glory can distribute itself evenly throughout the hair.
because the glory tips serum Both heat protection as is also a hair oil There are also hair, if it is dry and stressed . It not only donates moisture , but bends further damage before .
With hair oil, you should generally use sparingly . Start with a small amount of and slowly feel yourself .

Here it is also recommended to incorporate the oil into the wet hair . As a result, joins you moisture in the hair .

Of course you can also use the oil in dry hair. Simply distribute and slightly over the lengths and tips. //genuine-haircare.de/products/treasure-oil-Haut-haar-100-ml "Title =" https://genuine-haircare.de/products/treasure-oil-Haut-haar-100-ml "> treasure Oil .
When you use silver shampoo for the first time, you should handle it very carefully at first. After all, we handle color pigments here. If the hair is too light and an exposure time that is too long, you could watch light coloring in your hair.

In addition, the silver shampoo only works when yellow color particles can be found in the hair. Brown, black or red hair is not influenced.

We always recommend that the silver shampoo initially take action for for almost 1 minutes. If the effect is not enough for you, you can of course also leave it on for longer.

Another tip from us : gloves to apply could be helpful. If the shampoo stays on your palms too long, it could be that you get out of the shower with slightly colored hands.

but also here: a few washes and the coloring is gone again. :)

Here is our silver shampoo:

All of our tonic are provided with dosing caps . You can easily paint this over your scalp . Since the tonic is generally very fluid, you don't even have to put pressure on the bottle. As soon as the tonic has been applied, you can then massage it gently.

The exposure time is up to you here. In theory, you can also keep them completely in your hair until the next hair washing.

Here is our tonics: loog lotion , Cooling Water


What external influences on my hair should I consider?
Of course, the right hair care is crucial for the condition of your hair. However, it is often forgotten that nutrition also plays an important role in your scalp and hair situation.


> Sufficient water supply responsible for the detoxification of your body via the kidneys. If you don't drink enough, the detoxification process of your body may take place increasingly via the scalp in the form of sweat. The result is then a rapid fat scalp. Life style . Inadequate or one -sided nutrition causes blunt hair.

to counteract this should have enough protein and iron < EM> Integrate into your diet. However, so that this is accepted correctly, your body needs vitamin C .
vitamin C Food such as paprika, strawberries or currants .


Recording of healthy fats Essential for happy hair. rapeseed, sunblum-and walnut oil help you.
Der Sommer steht vor der Tür– darauf solltest Du jetzt achten!

Die Tage werden länger, draußen ist es endlich warm und die liebe Sonne zeigt sich wieder mal von ihrer besten Seite! Warum Du jetzt besonders Acht auf Deine Haare geben solltest und was Du unbedingt vermeiden solltest, verraten wir Dir hier!

Klimaanlagen: praktisch, aber schlecht fürs Haar

Du hältst Dich an heißen Tagen oft in klimatisierten Räumen auf, wie beispielsweise im Büro oder im Auto? Klimaanlagen sind zwar super praktisch, aber schädigen unser Haar enorm! Die "unnatürliche" Luft sorgt dafür, dass die vorher so glänzende Mähne spröde wird und austrocknet– unschön!

Anstatt also den Raum, in dem Du Dich aufhältst unnatürlich herunterzukühlen, versuche es mit Stoßlüften und fahre, falls vorhanden, die Rollläden herunter, um direkte Sonneneinstrahlung zu verhindern. Sollte es sich allerdings nicht vermeiden lassen, die Klimaanlage zu benutzen, dann schütze und nähre Dein Haar! Das geht zum Beispiel mit unserem Treasure Oil oder dem Wet & Shine Leave-In Conditioner. Einfach in die Spitzen einkneten und schon ist Austrocknung vorgebeugt!


Sonnenbrillen: Absolutes Sommer-Must-Have?

Sonnenbrillen sind nicht nur super praktisch, sondern oft auch ein Fashion Statement. Gehörst Du zu den Menschen, die sich ihre Sonnenbrille in die Haare stecken? Darauf solltest Du in Zukunft vielleicht lieber verzichten, da es so oft zu Haarbruch kommen kann. Vor allem wenn Deine Sonnenbrille Nasenpads hat, solltest Du sie lieber am T-Shirt festklemmen, da diese leider häufig sogar Haare ausreißen können bei zu schnellem Abnehmen. 

Nasse Haare bürsten

Bei warmem Wetter die Haare einfach mal lufttrocknen lassen? Super Idee, wie wir finden, denn Föhnhitze trocknet das Haar aus und macht es glanzlos. Doch bitte vermeide den Griff zur Bürste! Nasse Haare sind sehr elastisch und brechen leichter, wenn eine Bürste benutzt wird. Verwende stattdessen, wenn dein Haar entwirrt werden soll, einen grobzinkigen Kamm, wie unsere handgefertigten Lady Amber oder Lady Rose Modelle oder auch einfach Deine Finger.

Endlich in die Sonne: aber mit Hitzeschutz!

So kannst Du nicht nur auf der Kopfhaut einen Sonnenbrand bekommen, sondern auch Deine Längen und Spitzen können in Mitleidenschaft gezogen werden!

Deshalb solltest Du an eine Kopfbedeckung denken, wenn Du Dich direkt in die Sonne begibst: so minimierst Du mögliche Schäden! Aber auch eine reichhaltige Maske mit UV-Schutz kann Wunder bewirken und Du brauchst Dir keine Gedanken um Austrocknung mehr zu machen! Unsere Volume & Shine, Wet & Shine und Color Preserve Masken enthalten alle UV-Schutz und pflegen Dein Haar intensiv.

Wenn Du Dir alle dieser Tipps zu Herzen nimmst, dann steht einem entspannten Sommer nichts mehr im Weg! 

Unsere Sommer-Must Haves: das Fresh Up Trockenshampoo, das Treasure Oil, alle Masken, sowie den Wet & Shine Leave-In Conditioner!
The pre -Christmas period has started and the winter mode is also upside down. The scalp starts to itch and the lengths and pointed of the same drained straw. So now it is urgently time to make yourself winterproof! of a lack of moisture. Digain, blunt and charged tips also fit into the picture. Step number one should first be a look at the heating: it is usually not only uncomfortable for the wallet, but also quite harmful to the hair! Therefore (if not inevitable): Turn down a level!
It is best to go with a nourishing oil like our treasure Oil or a rich mask like the volume & shine mask // Span> before. If you are plagued by itchy, irritated and dry scalp, a combination of both is the ultimate rescue for you: simply mix one or two drops of the treasure oil with a small amount of the volume & shine mask and add on the base and tips. However, please only add directly to the approach here if you do not tend to fatty hair! In this case, you apply the combination to your lengths and tips and treat them to a long exposure time of about 45 minutes. So you prepare your hair optimally for a possible hard winter. Ideally, you should use this cure once a week to maintain sustainably.


with hat or without? Dry scalp is also a classic winter phenomenon. The constant wearing of headgear such as hats ensures flat, greasy or sweaty hair. The scalp cannot breathe enough under a hat and flows so much. But what to do if it's so bitter cold outside? Of course you should not freeze and such a flat -pressed approach can be easily refreshed. Our fresh up Dry shampoo even has this function directly in the name! It also absorbs excess fat and not only makes your approach smell, but also how freshly washed.


Your wintry hair problem wasn't there today? Let us know and we will take your suggestions into our upcoming winter series. For individual advice, you can at any time via email or Instagram or facebook reach!