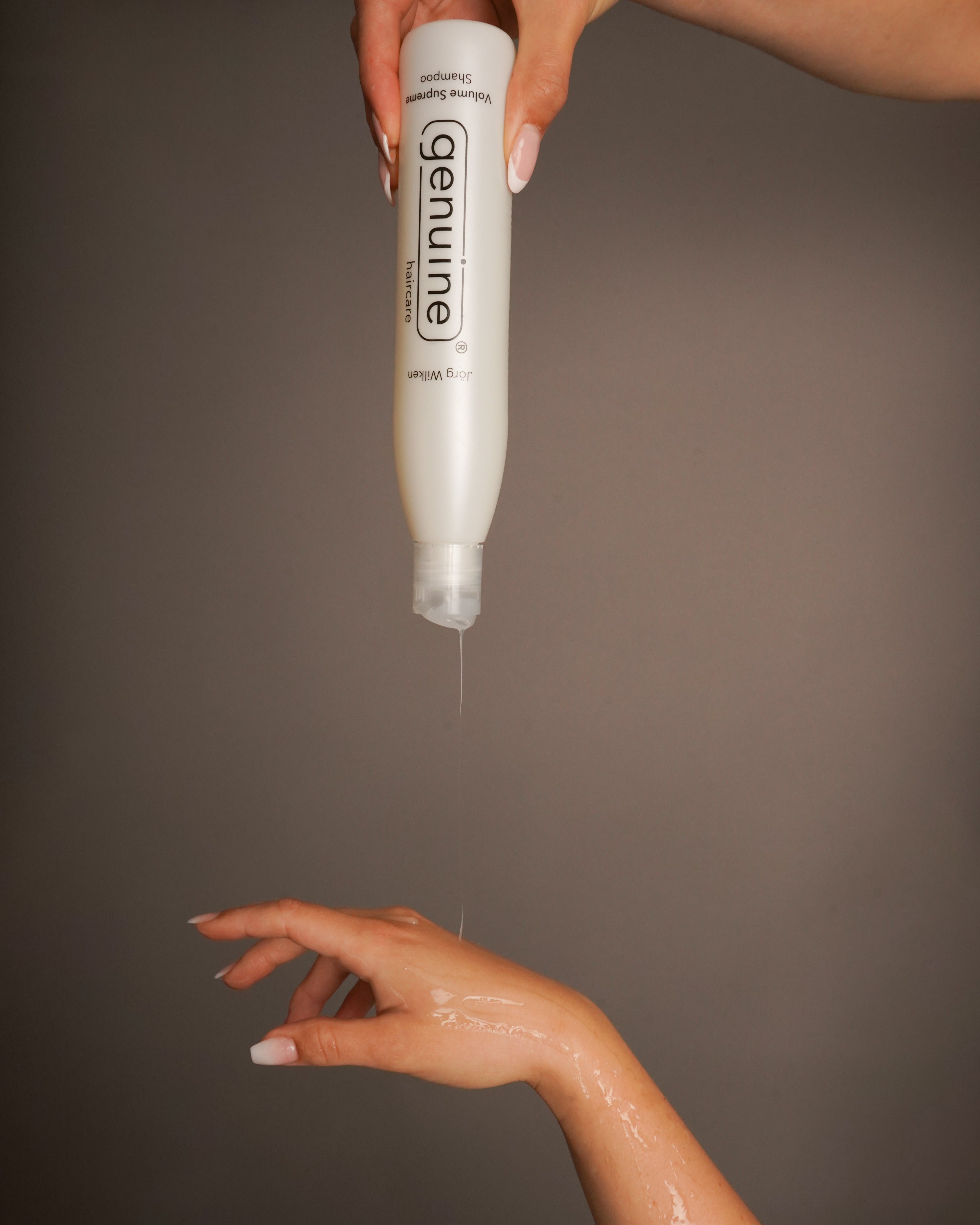 the dry dandruff.
30 days of money-back guarantee
In this set you have the choice between the easy sensitive shampoo and the Volume Supreme shampoo. Both shampoo reduce dry dandruffs, but are different.
We recommend our easy sensitive shampoo for care. We recommend our Volume Supreme for fine to light hair because it also boosts hair growth. Feel free to use our shampoo guide as an orientation as to which care shampoo is suitable for you or like to get in touch with our team.

If dry scales are plagued, this is often associated with an unpleasant itching. Our cooling water looks like a blessing - already when used for the first time, all itching disappears as if about magic. In addition, it cleans the scalp deep so that your scalp can literally breathe and become healthy again.

With a particularly weakened and dry scalp, we recommend our Treasure Oil for skin and hair. It is a 100% natural, cold -pressed avocado oil, which is rich in nutrients. In acute cases, we recommend a clear routine that you are used below.

Our My Secret is not intended for your scalp, but for your lengths and tips. If your scalp is not in balance and is heavily dry and scaly, your hair will also be more dry. With our My Secret you strengthen your lengths and tips, regenerate any damage and supply it with moisture so that nothing stands in the way of your happy hair.
Anything else?
It works within only 60 seconds and can then be rinsed out again :)
Set includes

1. Easy Sensitive or Volume Supreme Shampoo - original price: € 22
2. Cooling Water scalp lotion - original price: 26 €
3. My Secret Quicky Mask - original price: 30 €
4. Treasure Oil for skin and hair - original price: 36 €
How you use me

1. Foam the shampoo in your hand beforehand and then only massage it into the approach - let it look briefly and finally wash out properly.

2. Only distribute the mask into the lengths and tips and let it take effect. Then rinse.

3. Our cooling water can be used in a variety of ways and adapts ideally to your routine. You can apply it for 10-20 minutes before your hair washing; You turn it after your hair wash (or in dry hair); Or even after sports or when the itching is noticeable.
In all cases, it is best to part the hair into three areas and with the thin opening of the cooling water straight away over the parting, then massage in gently.

4. The treasure oil is suitable for both skin and hair and has a particularly nourishing and calming effect. If you suffer from a strong scalp, we recommend the following routine: Use the Treasure Oil just before going to sleep.

To do this, top your hair best and apply the Treasure Oil generously on the scalp. Then massage your scalp gently and put a towel over your pillow so that no oil gets on your bed linen.

The next morning your hair will look overnight, so a hair washing is necessary. However, your scalp was maintained and nourished over the night. If you follow this routine several days, the dry dandruff will disappear!
Is the product suitable for me?
SHIPMENT

The goods are delivered worldwide.

Shipping costs (incl. VAT)
Deliveries in Germany (Germany):
DHL GOGREE (climate -neutral) 5.00 € < BR/> We deliver free of charge from an order value of € 40.00. , 90 €

other countries in the world: € 34.00
the dry dandruff.
Sale price

92,00 €
Regular price

114,00 €
Choose options